Konservative kapitulieren vor Trump
14.03.2019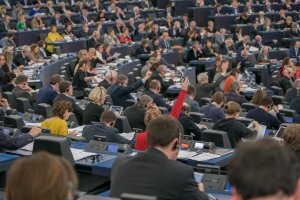 (English version below)
Das Europaparlament kann sich nicht auf eine Resolution gegen den Beginn von Verhandlungen mit den USA über ein Handelsabkommen einigen. Ablehnende Einzelanträge fanden zwar heute eine knappe Mehrheit, die so veränderte Resolution wurde jedoch am Ende von einer Mehrheit aus Konservativen und Liberalen abgelehnt.
"Die Strafandrohungen der Trump-Administration haben gewirkt. Erst hat US-Präsident Trump die Welt mit Strafzöllen auf Aluminium und Stahlprodukte überzogen, dann China in einen Handelskonflikt getrieben, unter dem die ganze Weltwirtschaft leidet, und nun 25 Prozent Zölle auf Autos aus Europa angedroht, sollte die EU nicht einem Handelsabkommen mit den USA zustimmen", sagte Helmut Scholz, der handelspolitische Sprecher der Linksfraktion, nach der heutigen Abstimmung über die Eröffnung von Verhandlungen mit den USA.
Helmut Scholz weiter: "Das ist schlicht und einfach Erpressung. Meine Fraktion hat daher heute abgelehnt, unter Drohungen in Verhandlungen über ein neues, erst einmal auf Industriegüter begrenztes Freihandelsabkommen mit den USA einzusteigen."
Wie der Handelsexperte erklärte, könne Washington nun die Autoimporte aus Europa als Hebel nutzen, um neben Industriegütern insbesondere auch landwirtschaftliche Produkte in das Abkommen zu integrieren. Denn das stehe im Handelsmandat des EU-Kongresses ebenso wir der Zugang zum Öffentlichen Beschaffungswesen in EU-Mitgliedsländern. Dies widerspreche jedoch nicht nur den Interessen der europäischen Wirtschaft und Landwirtschaft, sondern vor allem jenen der Bevölkerung: "Die TTIP-Proteste haben klar gezeigt, dass die europäische Bevölkerung andere Schwerpunkte in der transatlantischen Zusammenarbeit will – Verbraucherschutz, Umweltinteressen und hohe Beschäftigungsstandards als zentrale Kriterien für die Wirtschafts- und Handelsbeziehungen", so der Abgeordnete in seiner gestrigen Rede. Die heutige Kapitulation vor Trumps Strafandrohungen sei auch eine Niederlage für die Bevölkerung, da Konservative und Liberale mit der heutigen Eröffnung eines Verhandlungsmandates deutlich gemacht hätten, dass sie entgegen der Position des Europäischen Parlaments die Einhaltung des Pariser Klimaschutzabkommens und die Ziele für nachhaltige Entwicklung als Bedingung bei der Aufnahme von internationalen Handelsabkommen ignorieren. Die dramatische Steigerung des Exports von amerikanischem vor allem aus Fracking erzeugten Flüssiggas in EU- Mitgliedstaaten spricht Bände. Und das nur einen Tag nach der eindringlichen Plenardebatte zur Einhaltung der Klimaschutzziele in Anwesenheit so vieler junger engagierter Menschen der "Fridays4future"-Bewegung auf den Besuchertribünen.
__________________________________________________________________________
The European Parliament has been unable to give an official position on the mandate for a new trade agreement with the United States. After several crucial motions rejecting the mandate drafted by the Commission from Members who were concerned about aspects of the agreement found a slim majority, the amended resolution was ultimately rejected by a majority of conservatives and liberals. The result of the final vote was 198 in favour, and 223 against, leaving the Parliament with no official position on the trade mandate.
Given that the previous trade agreement between the EU and the US – the controversial TTIP agreement – had been rejected in protest marches by millions of European citizens, and was derailed in 2016 when newly elected President Trump withdrew the US from negotiations, the vote took place in a tense context.
"The punitive threats of the Trump administration have worked", regrets MEP Helmut Scholz of GUE/NGL. "First, US President Trump has tarred the world with punitive tariffs on aluminium and steel products, then he has driven China into a trade dispute that plagues the entire global economy, and now Trump threatens to impose 25 percent tariffs on cars from Europe."
"This is simply blackmail. My group has therefore today refused to enter into negotiations on a new free trade agreement with the US limited to industrial goods under threats," Helmut Scholz, the trade spokesperson for the left group in the European Parliament, GUE/NGL, continues.
The concerns include the lack of impact assessment and the US president's announcement of withdrawal from the Paris Agreement on climate change.
The dramatic increase in the imports by Member States of liquefied gas produced in the US especially from fracking, speaks volumes, says Scholz: "What a poor signal only one day after the urgent plenary debate on compliance with the climate protection goals in the presence of so many committed young people of the 'Fridays4future' movement in the visitor's galleries."
The concerns are also about the question of whether agriculture would be included in the agreement – because this is a demand in the trade mandate of the European Commission, as well as access to public procurement in EU Member States.
Through blocking the formation of a clear stance from the European Parliament on the planned negotiations, the conservative and liberal MEPs effectively surrendered the whole Parliament to Trump's threats.
"Today's capitulation to Trump's threats of punishment is also a defeat for the population, as conservatives and liberals have made it clear through their refusal to block the negotiating mandate, that they are listening to neither the TTIP protests nor the Fridays4Future climate movement. They did not give support to the established European Parliament position not to negotiate international agreements with governments that are not complying with the Paris Agreement on climate change."
The Member States will now decide on whether the trade agreement goes ahead at the next Council meeting. In light of the controversial position in the European Parliament, it is up to the Council and Commission to decide whether to open negotiations under ongoing pressure and blackmailing from the Trump administration.
Scholz stresses further: "The old mandate for the TTIP negotiations should be revoked before adopting a mandate for negotiating a new agreement. As the protests against TTIP over the past few years have clearly shown, the European population wants other priorities in transatlantic trade cooperation, such as consumer protection, environmental sustainability and high employment standards."
Strasbourg, 14.03.2019
Kontakt
Büro Helmut Scholz
Mitglied des Europäischen Parlaments
0033 3 88 1 75893
helmut.scholz@ep.europa.eu
helmutscholz.eu
@HelmutScholzMEP