E-commerce first round: negotiators focus on finding common ground
17.05.2019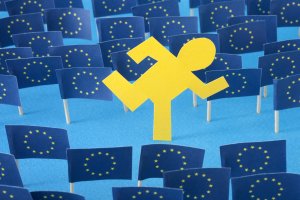 Man running through EU flags
E-commerce first round: negotiators focus on finding common ground
15/05/2019 by Iana Dreyer
Diplomats of more than 75 countries met in Geneva this week to formally start negotiations to set rules for trade in the 21st century in the World Trade Organization. The aim is to achieve a so-called 'plurilateral' agreement among a subset of organisation members which others could join later.
The process was initiated in March. Nine countries – counting the EU as one – submitted text proposals ahead of this week's meetings that could form the basis of a future accord.
Regulating and keeping digitally-driven and transmitted trade open is currently a highly sensitive topic. Some issues that members tabled for negotiations touch directly on the ongoing US-China 'trade war', the European Union's approach to data privacy or China's system of information censorship.
"It was a less difficult start than I expected" an insider told Borderlex after the meetings. The negotiators, who looked at the tabled texts in 'focus groups' identified many areas where WTO members would most likely be able to agree on a common set of rules. These include measures that help ease cross-border trade and build trust among sellers and buyers across jurisdictions, such as e-signatures, e-contracts and consumer protection.
Most participants agree that there should be a set of basic principles to ensure trust for consumers – the question will be how detailed or prescriptive the rules would be. Members would be required to recognise electronic signatures and contracts and set fair and transparent criteria for their recognition. Many countries also agree that governments may not force a seller to disclose source codes for software.
Negotiators did not focus on some of the most controversial areas of negotiation such as the issue of the extent of freedom of personal cross-border data flows, or those related to 'market access' – opening markets directly – and non-discrimination rules.
China and the West could clash over digital trade
Although most participants in the negotiations tend to agree that a current WTO moratorium on taxes or duties on electronic trade should be made permanent, the issue is still expected to be a matter for future negotiations. Also, the extent of commitments expected from poor countries involved in the talks will also be a matter for discussion – with Washington taking the view that all participants should adopt exactly the same rules.
The United States has misgivings about China's participation in the talks. China for its part is seen as very engaged in the negotiation process. It is widely expected that independently of the ongoing tensions between Washington and Beijing, 'Western' notions of digital trade as represented by the EU, the US and many countries in the Asia Pacific and developing world will be difficult to reconcile with China's.
But so will the EU's and the US's approach to digital trade. The US tabled a text that is similar to that of the new Nafta or USMCA, which itself is similar to that of the 11-country trade Pact CPTPP signed by countries such as Japan, Canada, Australia and New Zealand. Their views on data flows and on the extent of exceptions for data privacy reasons are radically different from that of the EU. The EU for its part tabled a text that suggests that data privacy must be recognised as a human right. The EU has also tabled concrete market access proposals in areas such as telecommunications networks which could be difficult for a country like the United States to accept.
It is still early days for such a big and complex negotiation. Diplomats are not even yet clear if members will aim for a completely new treaty or for an annex to the WTO's GATS agreement on services, whose Article VI covers 'electronically traded services'.
https://borderlex.eu/2019/05/15/e-commerce-first-round-negotiators-focus-on-finding-common-ground/